August 20th, 2019
Clearing the Fog: Packing Essentials for Your SF Trip in Any Weather
The weather in San Francisco contradicts many people's assumptions of the California climate. The city is actually one of the coolest in the US during the summertime and its yearly average is 57 degrees Fahrenheit. Why so? The city is positioned at the gateway of the Pacific Ocean, so it pulls in erratic weather with it. One moment the Golden Gate Bridge is blanketed in fog; the next it's illuminated by sunshine. We wouldn't have it any other way, but it can be a tricky place to pack for.
A key rule of thumb is that packing clothes that are versatile will give you a wider range of looks with less. Let us lay out what's best to pack in your bag if you're visiting the City by the Bay.
Layers
The easiest way to deal with the unpredictable, sunny or chilly temperatures of San Francisco is with layers. Bring a baselayer top, which you can warm up with a sweater, jacket and/or a muslin scarf. If it heats up you only have to shed a few layers to feel comfortable, and in the evening you'll be set to build up your outfit.
Denim jeans & jacket
Stanford Court Hotel is particularly fond of Levis, which were actually founded in San Francisco. You can never go wrong with a comfortable pair of 501s, and denim jackets are a timeless, practical addition to any wardrobe. Plus, the inside pockets on denim jackets are super useful while traveling around SF – it keeps all the important stuff right where you need it.
Windbreaker
If you're planning to enjoy a sunset over the Pacific Ocean, time at Ocean Beach or maybe a bike ride over to the Marin Headlands, you'll want to consider a windbreaker – especially if you're crossing the Golden Gate Bridge. If you're shopping around for a waterproof shell, check out your options at Patagonia, a CA-based, sustainable apparel company that has the most reliable outdoor gear.
The right shoes
Just like denim, leather boots can be dressed up or down. They're also perfect for all the microclimates within city limits. Something like the Mendelle lace-up boots from Sutro Footwear can be worn with a dress or slacks to jeans.
You'll also want to bring something lightweight, such as ballet flats for women or light loafers for men. Ladies: for lightweight footwear than can be dressed up or down, think about purchasing a pair of Rothy's, which are described as "an impossibly comfortable flat" – made entirely out of recycled plastic bottles. For more suggestions, read up on innovative, local footwear brands that stick to sustainable practices and style.
Day bag or backpack
Take time to consider your day bag. Will you need something that's comfortable to tote around while traveling on bike? Something big enough to bring all the essentials for a day outside? Space for a laptop?
Timbuk2 in SF has been in the business of making the perfect messenger bags, backpacks and luggage for 30 years. Waterproof bags will hold up against wet weather, and backpacks tailored to the perfect fit will make your outings easy and lightweight.
For our business travelers, look at our favorite, functional tech gadgets.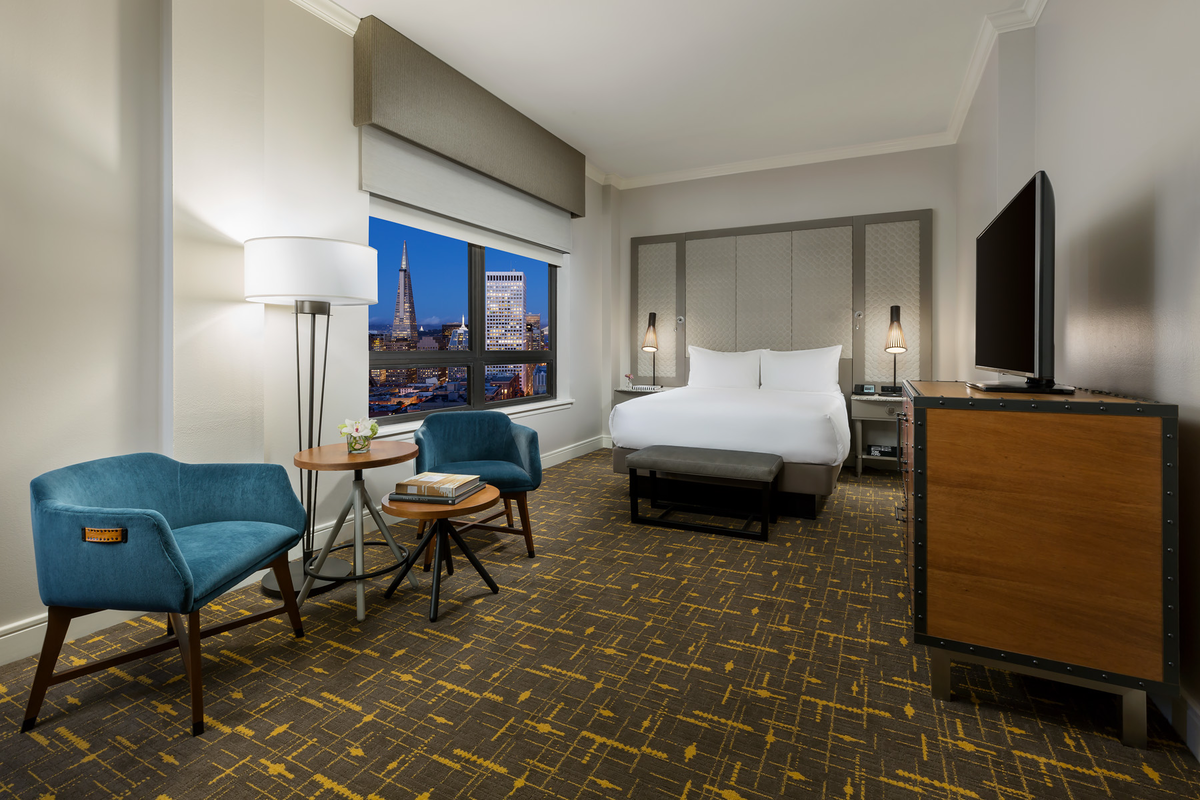 Stanford Court Hotel in San Francisco offers tech-forward and eco-friendly amenities. Check out our bed and breakfast package rate and book your stay at Nob Hill's most progressive boutique hotel.