November 11th, 2019
Tracing San Francisco's Diverse City Squares
City squares may seem like an afterthought to the typical tourist because of the inconsistent nature of a public square. Author Michael Kimmelman wrote it best: "The square is a treasure precisely because it doesn't masquerade as an outdoor museum. It's a living place, jammed with people, changeable, democratic, urbane" (Culture: Power of the Place).
People-watching in a city square isn't a past time reserved for European vacations. Take a glimpse of these squares in San Francisco, which illustrate the diverse patchwork that makes up our fair city.
Union Square
Downtown
This bustling, one-block plaza is the most famous square in the city and accessible by cable car (Powell-Hyde and Powell-Mason), trolley bus, Muni and BART (via Powell Street station). Union Square is surrounded by shops, art galleries, boutiques, eateries, and off-Broadway theatres. A towering statue of Nike (the ancient Greek Goddess of Victory) crowns the square. Head to Union Square around the holidays to enjoy open-air ice skating. Union Square is located at 333 Post St., San Francisco
Alamo Square
Alamo Square
Cue the Full House theme song. This pristine square is more of a park, with a verdant, green lawn that overlooks the Painted Ladies and downtown San Francisco. Another great spot to grab a spot in the grass and take in the view. Alamo Square is located on the corner of Steiner and Hayes streets.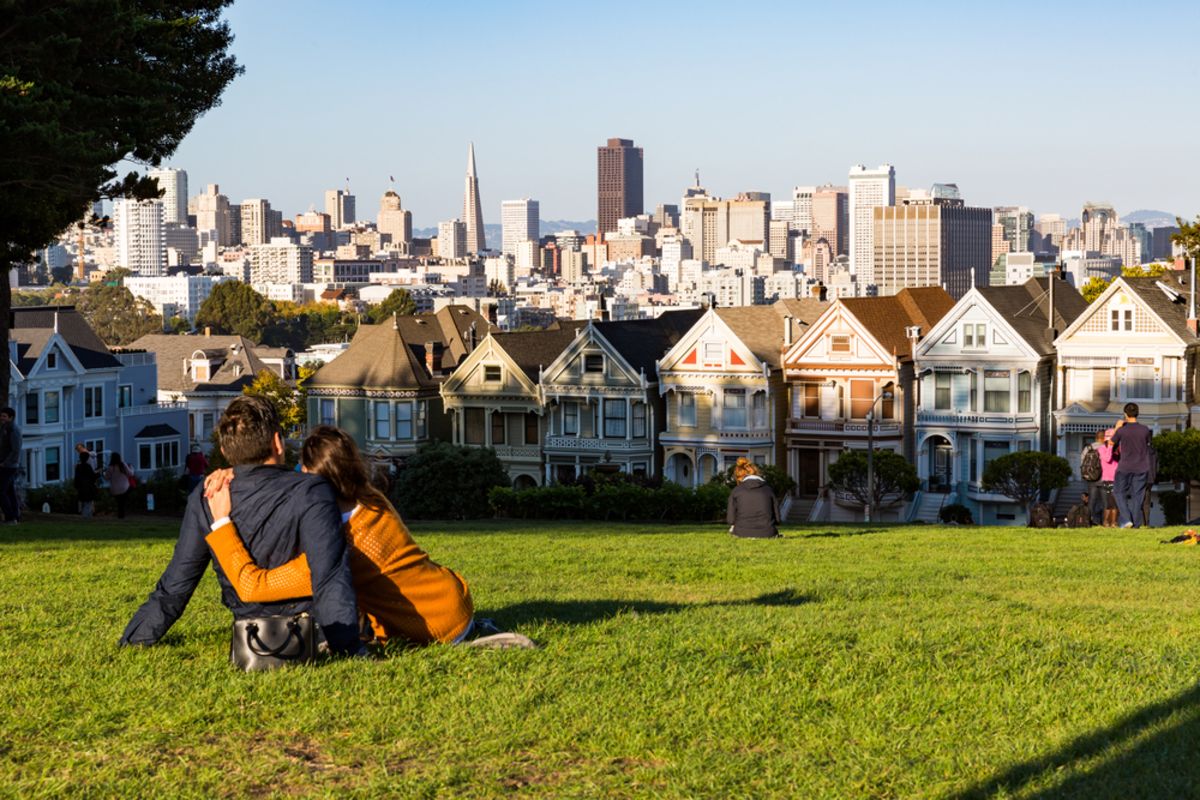 St. Mary's Square
Chinatown
This urban park in Chinatown was the former site of the original Kong Chow Temple, which was destroyed during the 1906 earthquake. Today, it features a statue of Sun Yat-sen by Beniamino Bufano. Bufano's works can also be found in Stanford Court Hotel, the Valencia Garden Housing Project, and many other locations throughout the city. St. Mary's Square is located at 651 California St, San Francisco.
Sydney G. Walton Square
Financial District
Perfect for a picnic, Sydney Walton square is tucked away from traffic and features pleasing public art sculptures from the likes of Francois Stahly, Marisol, and Jim Dine. Workers from the Financial District frequent this square around lunchtime for its peaceful atmosphere and greenery. Sydney G. Walton Square is located near the Embarcadero, bound by Pacific, Front, Davis and Jackson streets.
Portsmouth Square
Chinatown
This square has it all. It was a filming location for Dirty Harry; the site of the city's first public school; the venue for Sam Brannan's announcement that gold was discovered in California; a favorite spot of writer Robert Louis Stevenson … and the list goes on. Today, the historic park is at the heart of Chinatown, where you'll see crowds gather for competitive xiangqi (Chinese chess). Portsmouth Square is located at Kearny and Clay streets.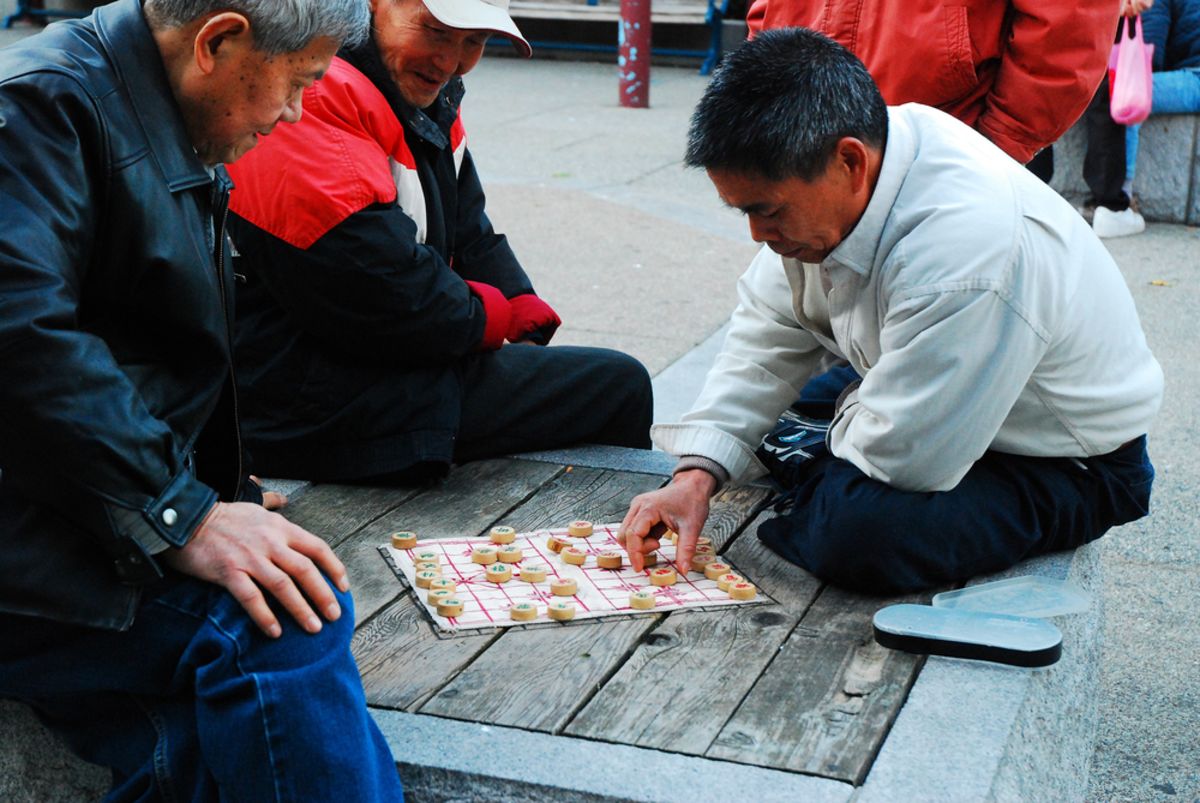 Ghirardelli Square
Fisherman's Wharf
Located in Fisherman's Wharf, Ghirardelli Square is a historic landmark with its fair share of activities, from pop-up markets and festivals to culinary events from The Cheese School of San Francisco. Its centerpiece is a mermaid fountain by San Francisco sculptor Ruth Asawa, noted for her public art and unconventional wire sculptures. Ghirardelli Square is located at 900 North Point Street at the corner of Beach & Larkin Streets.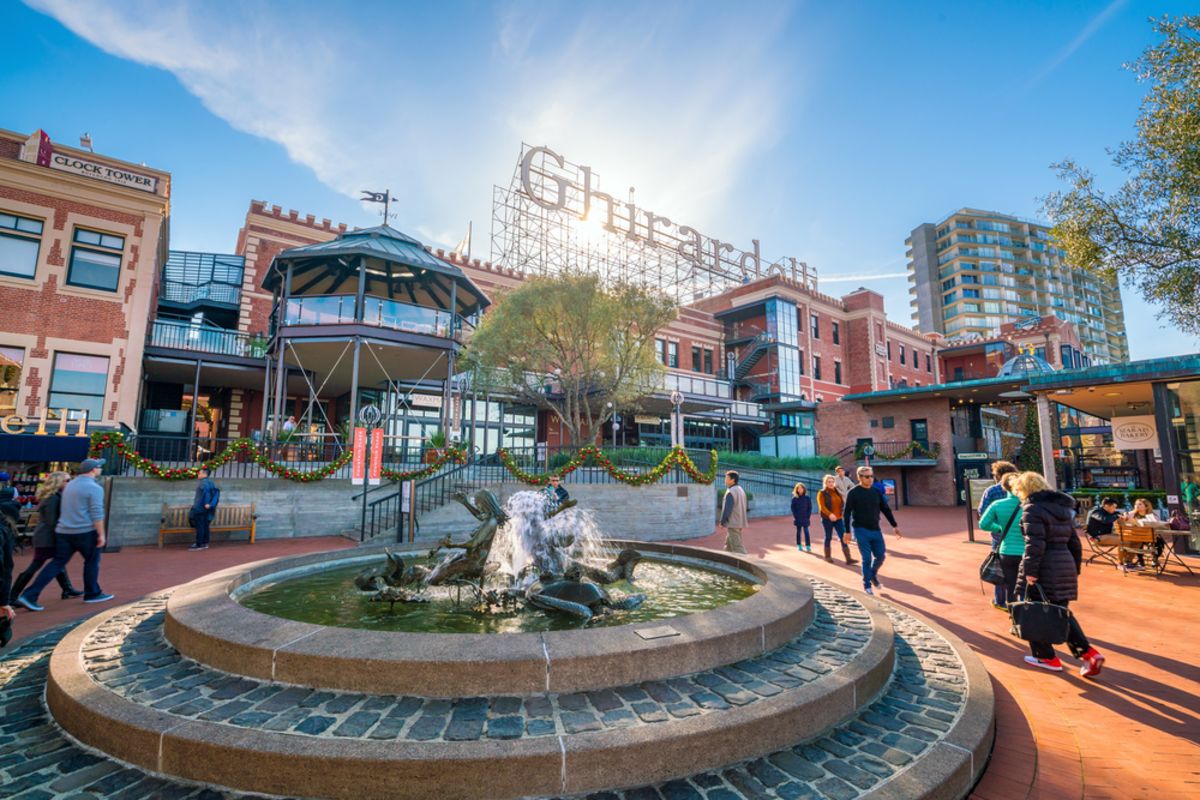 Washington Square
North Beach
This lush square is located in the heart of North Beach, right in front of the "Italian Cathedral of the West" - Saints Peter and Paul Church, built in 1884. The church offers weekly masses in Italian, Cantonese, and English. The square is a popular place for the community to gather, whether for yoga on the green, movie screenings, festivals or just laying out to digest a hearty meal from Little Italy. Washington Square is located on the corner of Filbert and Stockton streets.
The centrally-located Stanford Court Hotel in Nob Hill offers tech-forward and eco-friendly amenities. Check out our bed and breakfast package rate and book your stay at Nob Hill's most progressive boutique hotel.