November 23rd, 2018
The Wild Side of SF: Exploring Lands End
Wellness and balance are fundamental aspects of life in San Francisco. While the bustling city is invigorating, everyone needs to retreat and unplug every now and then. Next time you feel nature calling, explore the incredible trails at Lands End.
Lands End History
As the name suggests, this trail is reminiscent of the end of the world - a rocky and wild place, waiting to be unearthed. The trail is part of the Golden Gate National Recreation Area and offers a respite from the city while highlighting the area's history. And what a history! Lands End is famous for many shipwrecks that have occurred as a result of the rocky shores, fog and treacherous tides.
Top Sights
If it's your first time at Lands End, your first stop should be Lands End Lookout, a visitor's center showcasing exhibits on the area's history and geography.
The ruins of Sutro Baths and the popular restaurant Cliff House are very close to each other. For more than 100 years, Cliff House has been a fine dining destination overlooking the Seal Rocks. In 2005, the building was expertly restored to its former glory and continues to be a must visit. The Sutro Baths were constructed by millionaire Adolph Sutro as a public bathhouse that sought to educate visitors on the area's nature while offering inexpensive swimming facilities.
Last but not least, Lands End Labyrinth is located off the Mile Rock Beach side trail. It was created in 2004 by Eduardo Aguilar who envisioned a zen-like space offering a relaxing walk.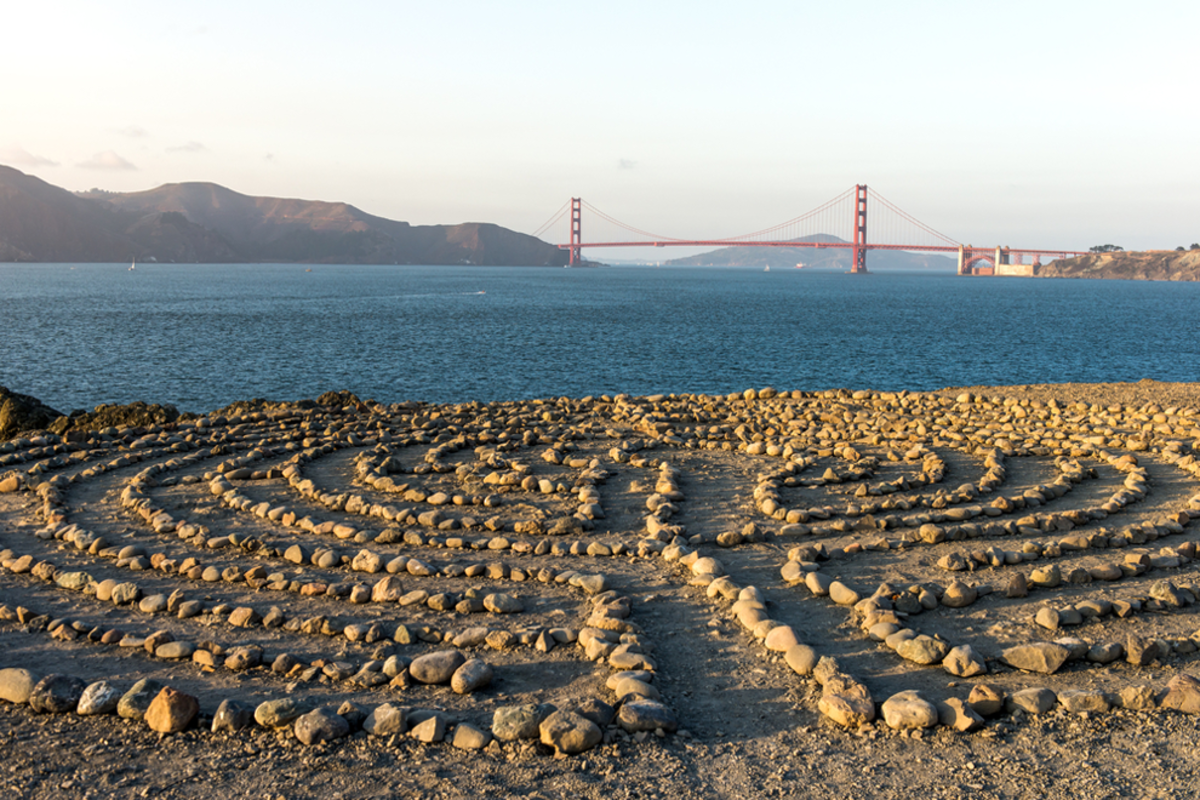 All About the Trail
Lands End may seem deceptively small on a map, but on closer inspection you may be surprised to find an intricate network of trails perfect for trail running, biking and even exploring with your dog (on a leash)!
Before heading out, keep in mind that Lands End is known as a wild trail for a reason. Some sections are best suited for hybrid bikes and comfortable shoes, while others require mountain bikes or trail shoes and hiking boots with decent grip — especially after rainy days. However, the section between the Lands End Overlook parking lot and the Mile Rock Overlook is ADA accessible. Check out the Lands End trail map to plan a trip that suits your needs.
SF's Coastal Trail crosses Lands End from end to end, offering unparalleled views of Golden Gate Bridge and connecting the trail's highlights. It is an easy to moderate trail given that some sections are wide and flat, while others climb moderately steep hills, traverse woods and take you through narrow routes with steep drop-offs and cliff edges.
Pamper Yourself After a Day on the Trail
Whether you want to stretch in our
fitness center
or take a nap after your day out, Stanford Court has all the amenities you need to recover.