January 31st, 2020
A Taste of the Mixing Room at Stanford Court: Refined Spirits & Clever Craft Brews
With sophisticated spirits and small-batch brews, the bar and lounge at Stanford Court Hotel in Nob Hill certainly earned its name – The Mixing Room – in 2019. The beverage program keeps a steady hand on curating pours for interested palettes, bringing in exceptional spirits and craft brews with a story.
2019 Highlights
Here's a look at some of last year's highlights, from bison grass vodka from Poland to an all-sour beer company in Berkeley.
Starting with the most mixable of the grain alcohols, the bar and lounge at Stanford Court is excited to offer Żubrówka (easily remembered as simply 'Zu'), a Polish bison grass vodka and one of the most beloved in the world. It's unfamiliar to most Americans because it was banned in the US until the last decade, but the approachable vodka is complex and goes well with everything.
In the same vein of subtle, sippable botanical notes, the gin selection at The Mixing Room has seen excellent upgrades that go especially well with the hotel's onsite garden and urban beehive. Gin drinkers will be happy to find that Bar Hill is on the list. The Vermont-based distillery's spirit tastes of honeycomb and juniper berries, which compliments floral cocktails.
The bourbon shelf has seen perhaps the greatest additions that would make any spirit specialist giddy. Highlights include Blanton's limited allocation bottles. Rockhill Farms by the Buffalo Trace Family is another label on the list that is in high demand. For something home-grown, enjoy a pour of Redwood Empire's bourbon or rye. This new distillery near NorCal's Russian River is dedicated to both forest restoration and creating amazing, aromatic whiskey and bourbon. For each bottle purchased, the distillery plants a tree. That tastes pretty good, doesn't it?
If you're interested in spirits found south of the border, several amazing mezcals and tequilas will give you a taste of how diverse the agave plant is. Selections include mezcal made from 30-year-old wild Tepeztate agave, young Espadin, and more.
If you're more of a beer drinker, the bar and lounge offers a wide range of options from hyper-local breweries. The year's stand-outs include:
> Russian River Brewing Co. from Santa Rosa. Pliny the Elder, a world-class American Imperial IPA; Consecration, a dark Belgian style ale aged in American oak Cabernet Sauvignon barrels; and Supplication, a tasty Brown Ale aged in used Pinot Noir barrels from local Sonoma County wineries.
> Standard Deviant Brewing in SF is a 10-barrel brewhouse that produces solid beers to limited accounts. Highlights include the Saison, which won the 2018 CA State Fair Bronze Medal, and the oh-so-hazy Hazy Pale Ale.
> Moonlight Brewing Co. from Santa Rosa, featuring the Reality Czech and the Death & Taxes black lager with an impossibly light body.
> Almanac Brewing Co. from across the Bay in Alameda. The company's farm-to-bottle brews are made with locally-sourced ingredients, like Love IPA and Sunshine & Opportunity.
> Fort Point Beer Co. from the Presidio in San Francisco. Fort Point is known for its very drinkable brews! The selections included the aromatic Animal IPA and delicate Villager IPA.
> The Rare Barrel from nearby Berkeley. The all-sour beer producer makes small batches that are a work of 'tart'. Selections included It's a Vibe, a sour that packs of pineapple punch, and Together We're Better, a golden sour beer aged in oak barrels with pineapple, passion fruit, cherry, guava, and peach.
> Barebottle Brewing Co. from San Francisco's Dogpatch neighborhood. Brews are inspired by SF and are made with local ingredients. On a Mission IPA, Hella Jalapeño, and Torcida Negra were some highlights.
Looking forward to 2020, The Mixing Room is happy to announce a new partnership with Temescal Brewing out of Oakland, CA! Keep an eye out this year as the food and beverage program grows.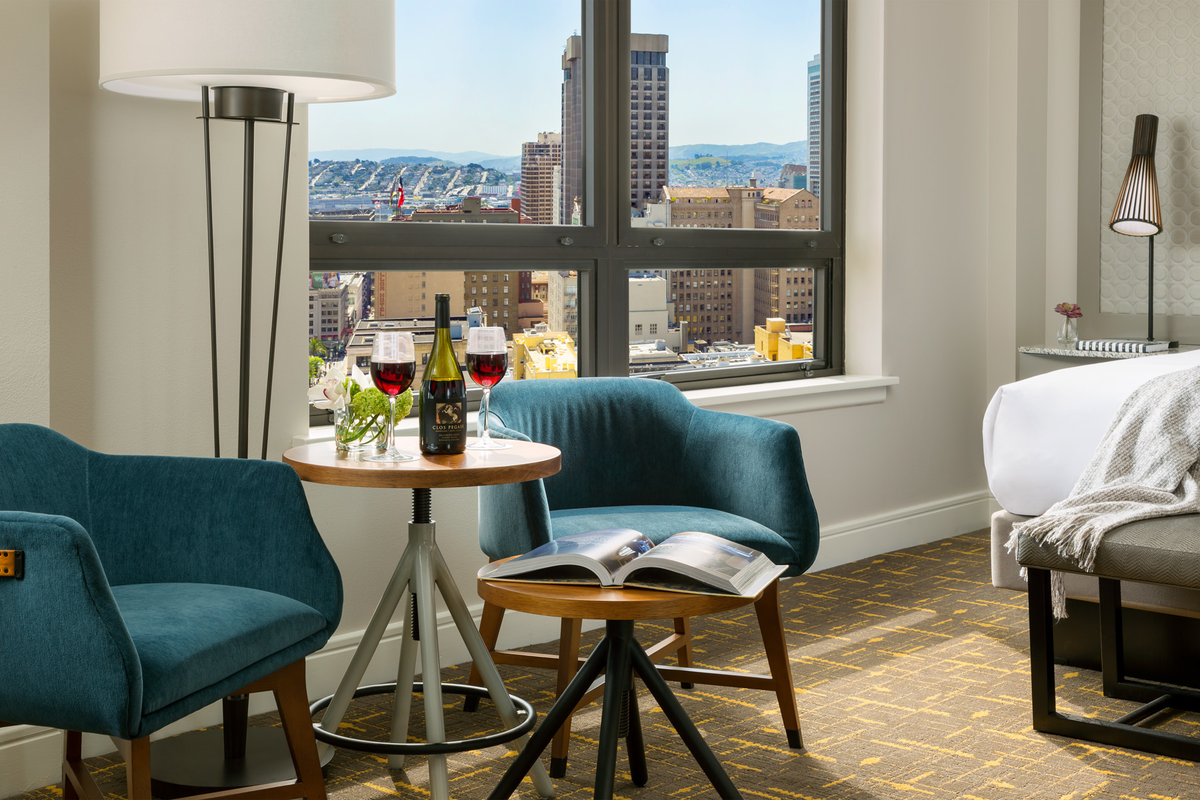 Enjoy your stay in San Francisco at Stanford Court Hotel in Nob Hill. More.